Reading 6 min Published Updated
Would you like to have a yield in the region of 20%? Guaranteed! No risk! This is many times more than deposits or reliable bonds give. It sounds implausible, but I think I found a "magic pill" that can bring such income.
The Renaissance Life Insurance Company has a Steady Income product (link) that promises 20% every year. Rather, this is the impression when you get to the main page.
But is it really so? Is it possible to get the promised twentieth yield?
Let's figure it out.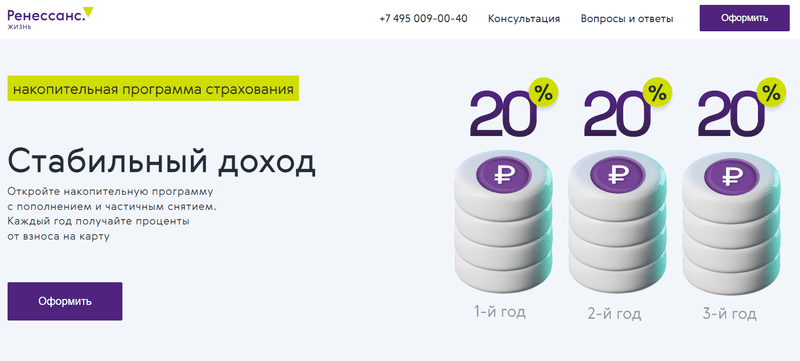 Several times I used another product of IC Renaissance Life – Valuable Asset Smart (similar to a deposit). Then, with the help of small cheats, it turned out to squeeze out about 30% per annum. I thought it might be possible to use such chips in a new instrument and slightly increase the profitability of my potential investments.
What is the essence of the program in a nutshell?
A stable income is a cumulative life insurance (NSZh) for a period of three years. You choose the amount of payment (from 100 thousand to 5 million), which must be paid annually for three years. The insurance company pays you 20% of your premium to the card every year (9 months after the payment).
After three years (if you live) – you get back all contributions in full. If you do not survive, the money will be paid to your relatives (this is an insurance product). Plus a small insurance premium for death. About 10% of what was accumulated over three years.
But that's not the point. The main thing in this scheme is profitability. 20% on the road do not roll. Or lying around, you just need to bend over and pick it up.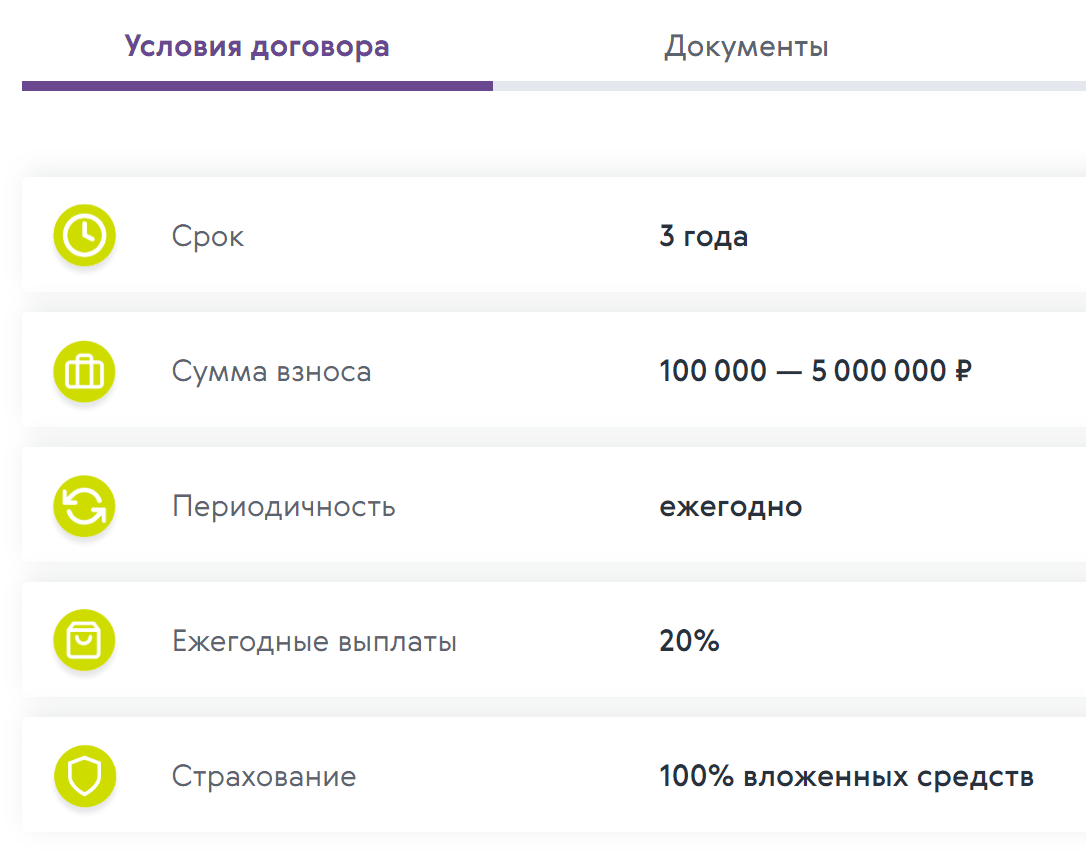 I read the conditions and documents on the Renaissance website, then talked on the phone with a Renaissance specialist or, as they are also called, an insurance agent to clarify some details that are not publicly available. And the puzzle came together.
Looking for a 20% yield?
Is it possible to get 20% in the Renaissance Life Steady Income program?
And yes. And no.
The question is, what do you mean by 20% return? Investors usually calculate the return as a percentage per annum or return on capital invested. This allows you to compare different instruments with each other. Investments, stocks and bonds. Or bonds with different maturities.
A Stable product has just 20% everywhere. And it seems that we are talking about the annual yield. But no. Income of 20% is indicated from the contribution. And this immediately worsens the whole picture and profitability.
Let's quickly count on our fingers how it will be:
1 year – a contribution of 100,000 rubles. We receive a payment of 20 thousand. Yield 20%.
2nd year – a contribution of another 100,000. Again a payment of 20 thousand. But the yield is 10%, because We have 200,000 in our account.
Year 3 – a contribution of 100,000. There will be 300,000 on the accounts. Payment of 20 thousand is a 6.6% yield.
It turns out that we get the "real" 20% only in the first year, and then the yield begins to decline. Literally many times.
I was wondering how much the correct investor return, expressed in % per annum, would actually be. All of a sudden it's not all bad. After all, we receive payments not in a year, but in 9 months. This may improve the situation somewhat.
I calculated the average annual return on Google Spreadsheets for Stable Income using the XIRR formula. Built a cash flow model for three years with annual contributions of 100,000 and payments every nine months of 20,000 rubles (20% of the contribution).
How to quickly calculate your return on investment | Formula + ready file for accounting
That's what I did.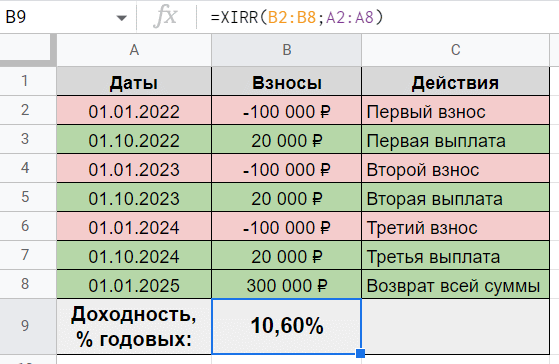 The average annual yield of the Stable Income product is 10.6% per annum.
But that's not all. As the agent told me, payments will come to the card minus tax. Income higher than the Central Bank rate is taxed. At the moment, the rate is 7.5%, which means that we are losing about 1.6% in payments.
In total, not 20% of the contribution, but 18.4% will come into your hands.
Calculate the profitability including taxes.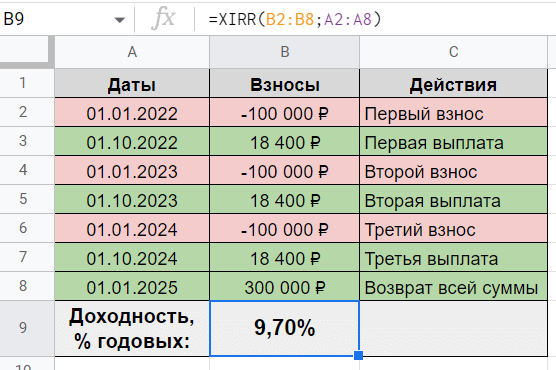 Taxes reduced the average annual yield of the Stable Income product to 9.7% per annum.
As can be seen from the calculations, the expected average annual profitability of the life insurance product is far from 20%. It is comparable to the yield of bonds oriented for the same period (about 3 years). And even a little higher. And it definitely overtakes bank deposits in terms of profitability.
Can use this product as an addition to other conservative tools?
Wait. In the NUJ there is an underwater .. not even a stone, but a STONE.
Hard minus Stable income!
What bonds have an advantage, Stable Income has a disadvantage. We can sell bonds at any time without loss of accumulated income. If you take deposits, then in case of early termination, we will lose interest (and even then not always).
And what about our insurance product?
The rules spell out the possibility of early termination of the insurance contract. A certain redemption amount is mentioned, that is, what percentage of the capital you will receive back. But I did not see specific numbers in the documents on the site. After talking with the agent, I found out all the details and, frankly, went crazy from such impudence of the insurers.
If you terminate the contract in the first two years, then the redemption amount is zero. This means that you will receive back … or rather, you will not receive anything.
If you terminate the contract in the third year, then the insurance company generously allows you to take about 10% of the amount you paid (10% redemption amount). The rest remains with the insurers.
Additionally, there are penalties for failure to make the next payment, up to termination of the insurance contract (and again losing money).
In case of early termination of the insurance contract, the client loses all or almost all capital!
In short, the conditions under the contract are horse. Profitability is not so impressive to get involved in such a program.
Can you do an upgrade?
You can slightly increase the final profitability of the product if you pay for the policy with the right bank cards. We can use a credit card with a long interest-free credit period.
For example, I will use a credit card with 120 days without interest. There are plenty of such cards on the market, if you search, and almost all of them are free. Choosing something will not be a problem.
What is the logic of the scheme? I pay for the policy with a credit card today and return the money to the bank in 4 months. We get a four-month lag, which can increase the average annual return on our investments.
In our example, the policy is bought on January 1, but we will pay the money on May 1. And we get the first payment not after 9 months, but after 5. And so every year.
We consider.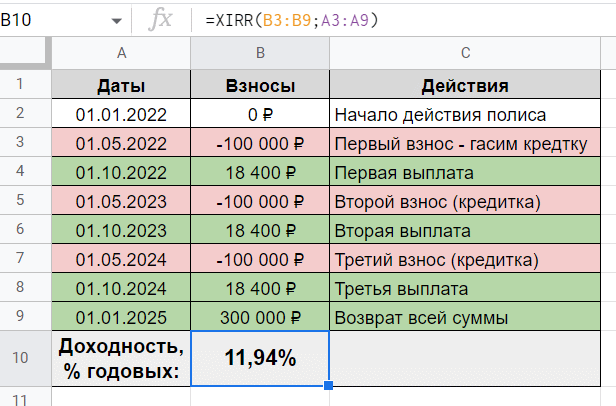 Theoretically, you can squeeze out of the program "Stable Income" for three years about 12% per annum. This is almost one and a half times more than bank deposits give.
But is it worth it? How do you think?