This screener is based on the strategy of cluster analysis and entering the market with a large participant.
He is looking for a large red cluster of an increased size relative to previous periods on the hourly timeframe, which means that there was a purchase by a limit order of coins on the spot by a large participant. If this happens below the level, then there is a high probability of a breakdown.
The signal comes to a closed Telegram channel.
Coins for analysis – 340 (spots)
Breakout signal example: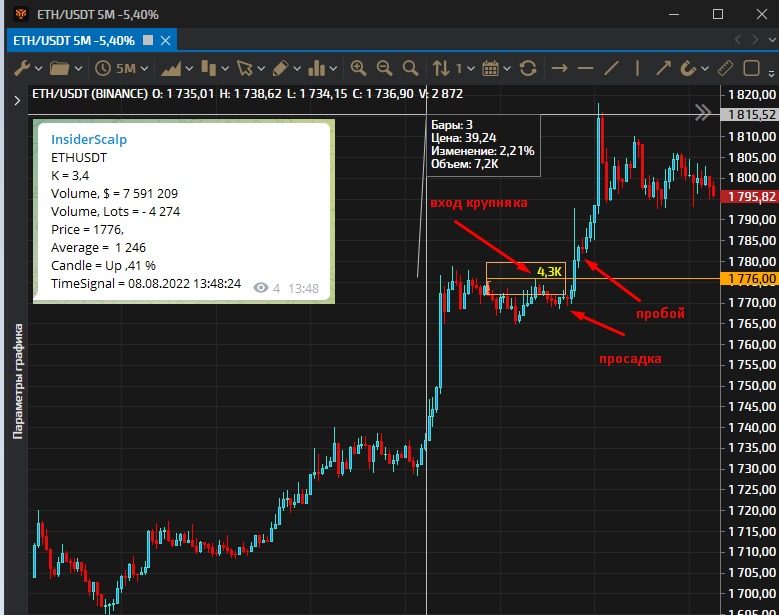 Signal Description:
ETHUSDT — coin ticker, spot
K = 3.4 — coefficient, how many times the current cluster is greater than the average for the last 5 candles
Volume, $ = 7 591 209 — volume of the cluster in dollars (may continue to accumulate, but a new signal will not arrive)
Volume, Lots = – 4 274 — volume of the cluster in lots (coins)
Price = 1776— cluster price
Average = 1246 — average value in lots for the last 5 hourly candles (values ​​are taken maximum period volume)
Candle = Up ,41% — U.P. — the limit order of a large participant was executed on a growing candle, usually this means that the participant is in a hurry to enter the deal, most often the price continues to go higher in the breakdown of the level
Down – entry on a falling candle, means that the participant is bought by a limit order on a market drawdown
TimeSignal = 08/08/2022 13:48:24 – signal time (MSK)
The cost of the screener is $20 per month.
Instructions and terms of subscription in google form.
Important! Not all signals make sense to take into account, this is just one of the factors confirming entry into the market, it is not right to buy from each signal.
Check the clusters and analyze the situation in the TigerTrade terminal, it has a history of clusters.
All profit!