Reading 8 min Published Updated
Last year I bribed a little silver on the stock exchange. After the closing of trading in gold and other funds (where I had invested a significant part of the money), I also switched to buying gold on the stock exchange.
Next, I will tell you why I buy gold and what benefits I expect to receive. I will give a couple of tips on how not to buy precious metals more expensive than their value and reduce trading costs.
About gold and silver on the stock exchange
Let me remind you that gold and silver are traded on the Moscow exchange currency market under the tickers GLDRUB and SLVRUB. Minimum lots to buy:
1 gram for gold;
and 100 grams for silver.
In terms of money, this is less than 4-5 thousand rubles at the current rate, which we will discuss below).
What is the advantage of buying on the exchange? Unlike exchange-traded funds for precious metals (primarily gold, of course), by making transactions on the exchange directly, the investor does not incur any management costs. Funds in this regard are a little more expensive, they want to rip off their commission from us. Which, moreover, we have to pay them constantly, as long as we own the funds.
It's one thing when we don't have much money or they are invested for a short period, then probably the commissions of the funds can be neglected, which vary within 0.5-1%. And turn a blind eye to these additional costs. If I have a couple of tens of thousands of rubles in my hands, then in a year only 100-200 rubles will come up in the form of commissions. Not so scary.
Well, those who know how to count their money should appreciate the possibility of free storage of precious metals.
The second plus in favor of buying gold and silver on the stock exchange is the story of the freezing of assets of Finex and other funds (including gold ones). While almost all stock gold is closed to investors (it is impossible to sell / buy), exchange metals are traded in the usual way.
Interesting fact!

The TGLD Gold Fund from Tinkoff does not store gold bars, but buys them on the GLDRUB exchange.
Why do I need gold in my portfolio?
I have repeatedly written that during the period of accumulation, when you have a large horizon ahead, I see no reason to invest in gold (and silver, too). But as you get closer to the goal, when you have a certain amount of capital or little time left, adding gold makes the portfolio less volatile and more resistant to various market shocks.
Probably, it would be a shame if, shortly before "day X" (to which you have been going for many, many years or decades), all your investments in securities will double. The presence of gold will help to slightly reduce the amount of losses. Not always, but in most cases.
Gold in the investment portfolio – factors FOR and AGAINST
After the February events and the beginning of the WSO, it so happened that Russian investors were cut off from foreign investment. Funds and many foreign exchange assets were frozen, many Russian brokers closed access to foreign stock exchanges, some foreign brokers asked Russian citizens to leave, someone else has not asked, but they can do it at any time (I'm talking about IB).
For foreign shares from the St. Petersburg Stock Exchange, dividends do not reach investors. BUT what's the point of investing in securities that steal part of your profits from you? Although it might be better to write frozen indefinitely. But this does not change the meaning.
I immediately remember a frame from Leonid Gaidai's film "It Can't Be". I said I'll give it! …. Half … Then.
And what is left for us in the stock market? Shares and bonds of Russian companies that are in the hell knows what condition. Uncertainty scares me a little and in order to somehow mitigate the risks – I start buying gold. Where? On the exchange. Diversification, however!
The second reason in favor of gold is the alternative to the dollar. The dollar exchange rate against the ruble has fallen to indecently low values ​​and it is a sin not to buy it at such prices. But then what to do with the buck? On foreign currency deposits, banks offer about zero profitability. Foreign exchange instruments, such as Eurobonds, are closed on the stock exchange. Inflation in the US at its highest over the past 40 years (at >8% per annum). And just lying on the accounts of the dollar will gradually depreciate.
What are my plans for the dollar?
Wait for the dollar to rise by several tens of percent. Lock in profit.
When military special operations end and (or) sanctions are lifted and (or) they give access to trading and (or) start paying dividends on foreign securities, it will be possible to start new investments. And I will have cash dollar cash in reserve, bought earlier at delicious prices.
But when will this happen? And will it happen in the near future? Unknown. So in addition, I spread myself a little straw in case something goes wrong. Or rather, if no one goes anywhere and we remain in the same suspended position.
The dollar fell significantly. And since world gold prices are pegged to the dollar, then the price of gold in rubles also fell. Why not invest some money in it. Again diversification, however! )))
Look at the dynamics of dollar and gold quotes over the past year. They move like twin brothers.
But over a longer interval (since 2014), gold quotes in rubles have grown twice as much as the dollar rate: 167 versus 81%. Could this happen again in the future? Quite. Gold in my portfolio acts as a protective and anti-inflationary asset.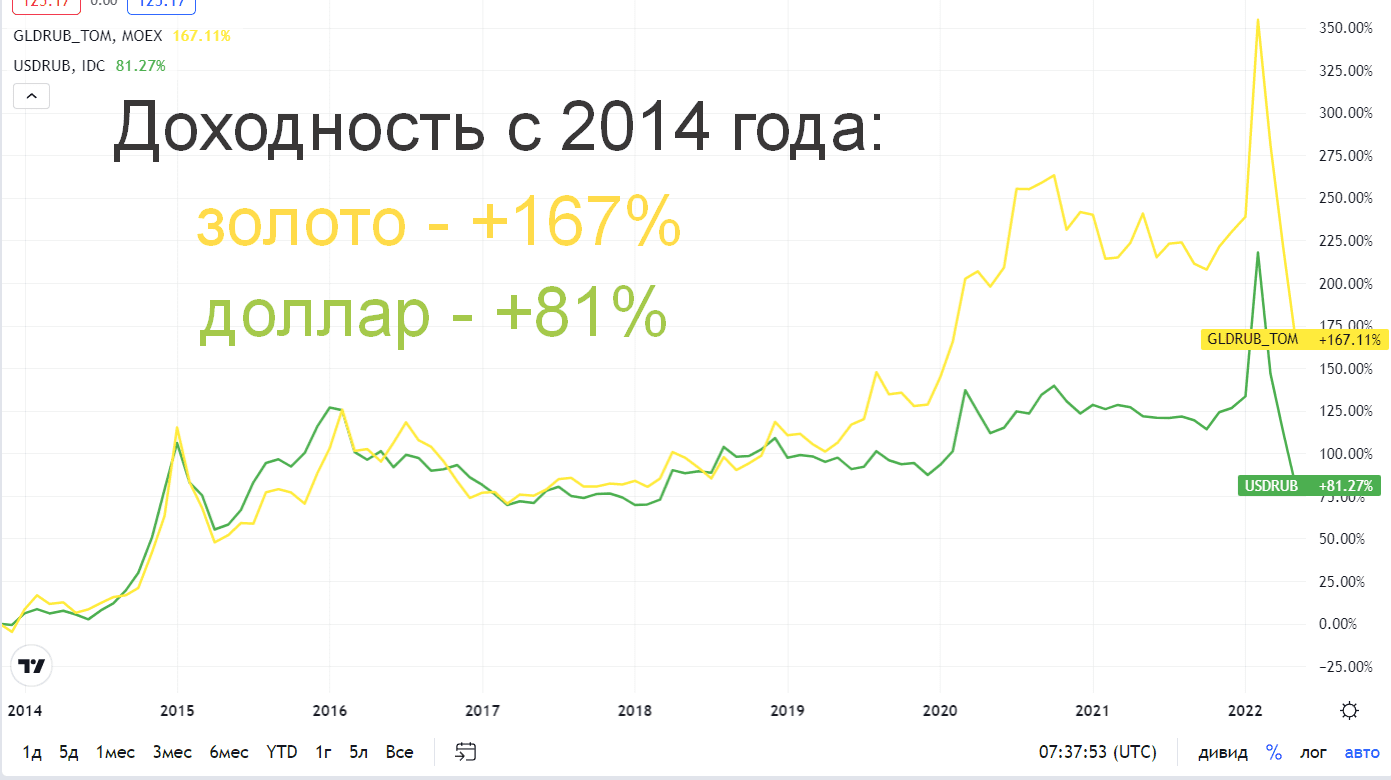 Features of gold and silver quotes on the Moscow Exchange
I have noticed that GLDRUB and SLVRUB stock quotes have been slightly different from fair values ​​in the last two months. Although earlier everything was quite accurate. The discrepancy with real prices was minimal.
I was strained by a strong discrepancy in silver. Exchange prices were 15-20 percent higher.
How to check it? There are two options.
Easy and fast way!
I watch the official rate of precious metals, which is published daily by the Central Bank). It allows you to roughly estimate whether silver or gold is traded expensively or cheaply on the stock exchange. The disadvantage of this approach is that the bank updates quotes once a day.
At the time of writing, the exchange rate of silver was ten percent closed. But gold was sold at a discount (by 5%):
With what it is connected – I do not know. Perhaps after the broker Tinkoff (or already Potaninoff) gave its clients access to trading in precious metals, they massively poured into the market and dispersed prices))) Or the market maker left the order book and does not support fair quotes.
For myself, I decided so.
If an asset is sold to you cheaper than its official value (if you look at the rate from the Central Bank), then I have no questions why this happens. As long as they give a discount, you can take it.
But if it's more expensive, then the toad presses me to overpay.
Therefore, I made it a rule to compare prices on the stock exchange and those set by the Central Bank before buying.
There is a second way, more accurate and correct. But also more difficult.
We need to take the world quotes of gold (XAUUSD ticker) or silver (XAGUSD) in real time.
Convert weight from ounces to grams (one ounce has 31.1 grams).
Divide the resulting price per gram by the current dollar exchange rate (USDRUB_TOD).
And voila. We will receive the world rate of gold or silver calculated in rubles at the usual prices for us per gram.
I would use the second method only in moments of high volatility, when the prices of gold and (or) the dollar change a lot during the day. Or if a deal is planned for a large amount and you want to be sure that you are buying (or selling) an asset at a fair price.
Brokers to buy gold
Now let's talk about which broker is better to buy gold and silver.
Not all brokers have the opportunity to trade exchange metals. There are only 11 of them in the Russian Federation. Of the popular ones, these are Tinkoff, Otkritie, and possibly KIT-Finance (where clients from Sberbank are massively transferred).
Brokers with access to trading in precious metals:
JSC IC "AK BARS Finance"
KIT Finance (PJSC)
CJSC "Sredneuralsky Brokerage Center"
(trademark Financial studio "GrottBjorn")
JSC "Investment company "IT Invest"
CJSC "IC "Ricom-Trust"
OJSC IC Zerich Capital Management
Joint Stock Company "Investment Company "NFC-Sberezheniya"
JSC "Opening Broker"
JSCB "CentroCredit"
UNIVER Capital, OOO
Tinkoff Bank
An up-to-date list of brokers providing access to trading is available on the Moscow Exchange website.
As practice has shown, the tariffs for the purchase of gold and silver grams from brokers can vary significantly!
For example, in Tinka, a predatory rate is set – at 2% on the basic Investor tariff (link to tariffs). Which actually kills the whole point of buying gold on the stock exchange. Give 2% for the purchase, the same amount for the sale – already 4% commissions. Tin.
In Otkrytie, where I actually take precious metals, at the standard All Inclusive rate – 0.08% per transaction. This is almost 24 times lower than the commission from Tinkoff.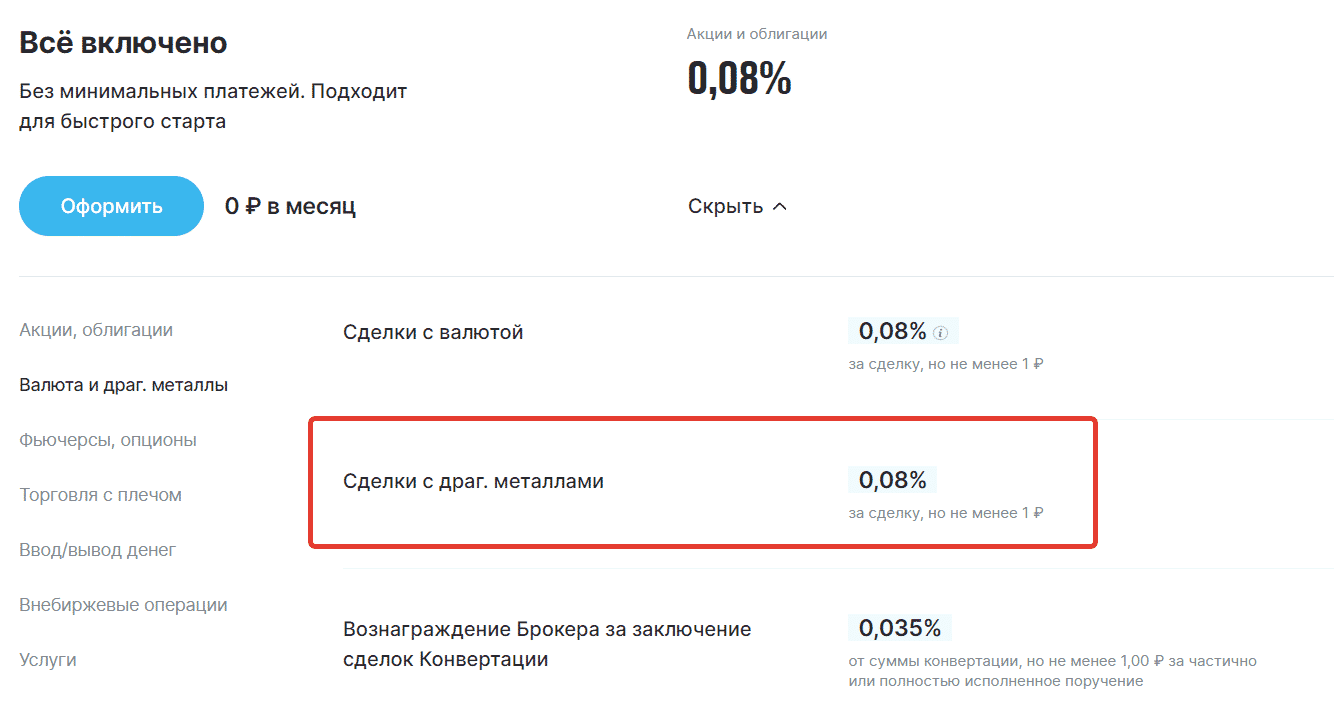 How do you feel about gold in an investment portfolio? If you buy, in what way?