Reading 6 min Published Updated
Over the weekend (April 24), Alpha stunned its clients with the news that it would not centrally transfer brokerage accounts with foreign assets to another broker. Although just a week before this (on the 19th), Alpha officially stated that everything was under control and there was nothing to worry about. We'll do it all ourselves…"we will carefully transfer your assets to another broker so that you can continue to trade freely on the exchange".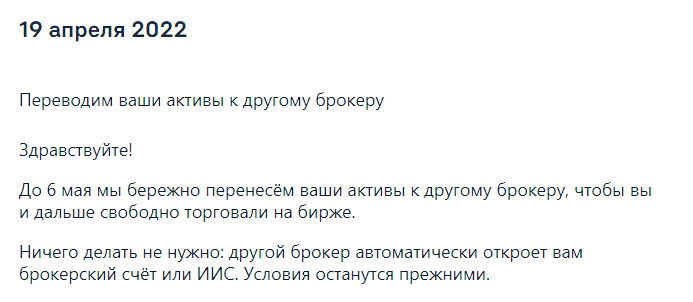 Are we flying into the abyss?
And now we are offered to make an independent choice of a broker from the presented list of 35 positions. In principle, nothing terrible at first glance did not happen. We even have the right to choose (or the illusion that we have the right to choose). The only bad thing is that all this needs to be done quickly – before the end of Monday (April 25). No customer focus. Many clients (especially those who were transferred from VTB) may not even see this message and "sleep the flash".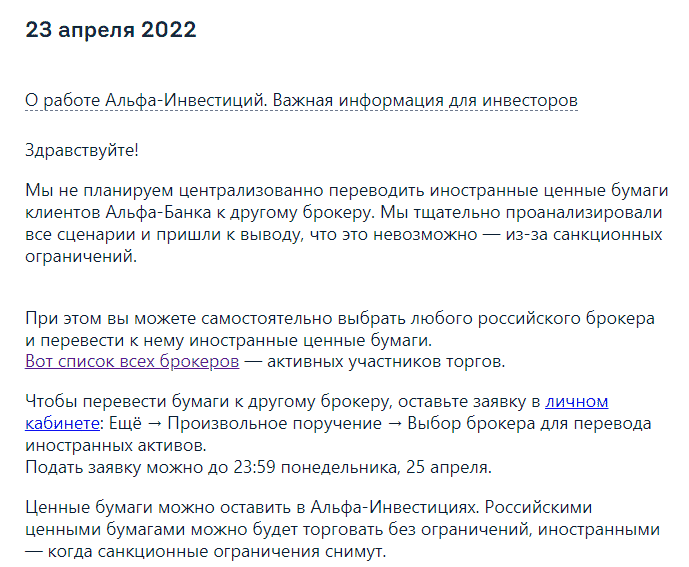 List of brokers for transfer:
Ak Bars Finance
JSCB CentroCredit
Alor Broker
ATON
Bank DOM.RF
Bank "Saint-Petersburg
BCS
Brokerage company REGION
Veles Capital
Garant-Invest
Helius Capital
Derzhava Bank
Oriole Capital
Investment company RICOM-TRUST
Investment company STOCK CAPITAL
Fontvieille Investment Company
Investment Chamber
Investment and financial company Solid
Individual investments
KIT Finance Broker
MTS Bank
NFC Savings
Renaissance Broker
Sinara Bank
Surgutneftegazbank
Tinkoff Bank
URALSIB Broker
Ural Bank for Reconstruction and Development
Finam
Financial company INTRAST
Firm Reserve-Invest
Freedom Finance
Expobank
ITI Capital
Moscow City Securities
The worst thing in this story is the possible problems with the IIS. Judging by ALPHA's statement, only foreign securities (and not accounts) will be transferred. In this case, the IIS will be forcibly closed. And if its life span is less than 3 years, then in addition you will have to return all previously received deductions plus pay a fine (penalties) in the amount of the Central Bank rate for the entire time the deductions are used. In short, complete crap.
---
From a notice from Alfa-Bank ….
Below we have prepared answers to important questions.
1. Do you transfer the entire account or only foreign securities?
We do not transfer accounts to the broker of your choice, but only your foreign securities. Russian securities will remain on the brokerage account with Alfa Investments.
2. If I don't want to transfer papers from Alfa Investments, what should I do?
Nothing. An order must be submitted if you want to transfer foreign securities to another broker. Otherwise, you will not be able to trade in foreign securities until restrictions are lifted from Alfa-Bank.
3. I have an IIS and a brokerage account – will all accounts be transferred?
We do not transfer accounts to another broker, but only your foreign securities. If you decide to transfer foreign securities from Alfa Investments that are on an individual investment account, then we will have to close the IIS. In this case, if you received a Type A tax deduction, you will need to return it and pay a penalty. To avoid this, you can leave the IIS in Alfa Investments. In this case, you will not be able to trade in these foreign securities until restrictions are lifted from Alfa-Bank.
4. What will be the tariff?
The one that you choose yourself from another broker. Usually all tariffs are on the broker's website.
Sincerely,
JSC "ALFA-BANK"
---
Problem Solving Ways
As a result, two questions arise.
What to do with assets in Alpha (to transfer or not to transfer).
Which broker to choose for transfer?
Let's start with the second question. And earlier I already wrote about the algorithm for choosing a broker under the conditions of sanctions. I made a list of applicants (with justification of the reasons) and chose the most favorable rates. I think this will greatly simplify the choice of a broker. Looking ahead, I will say that I am transferring my assets from Alpha to Tinkoff (not a recommendation).
Causes? Most likely, you will need to write a counter application for crediting securities coming from Alpha. This rule applies to all brokers. And with Tinkoff, in my experience, this will be the easiest to do: without paperwork and other bureaucracy (some brokers require you to come to the office in person and write a paper application).
Now, regarding the question of the expediency of transferring assets. I ended up with those "lucky ones" who only had a brokerage account moved from VTB to Alfa, and IIS was not transferred for some reason unknown to me. My brokerage account in Alfa contains foreign assets (Finex funds), so I will definitely transfer. I don't risk anything here. In fact, I recommend it to everyone.
What to do with IIS? To translate or not to translate?
There is no clear answer here. Conditions and goals are different for everyone. I'll tell you with my own example.
If I also had IIS in Alfa (with a lifespan of less than 3 years) for which I had previously received tax deductions, would I not do anything? I'd leave it at Alpha. The reason is purely mathematical.
My IIS is 2.5 years old. I have already received 3 deductions for a total of 156,000 rubles. If you count the fines, then another 20-25 thousand will run up (very roughly). In total, I will have to return, or rather lose from scratch, 180 thousand rubles. Yes, my hand will not rise to do this.
I will wait for the three-year period for IIS (November of this year) and close it safely. Assets (both foreign and Russian) can be transferred to a regular brokerage account with Alfa. And then open IIS with any other broker.
I would do exactly that.
Perhaps you have recently opened an IIS and have not yet received deductions (or received some crumbs). Then it will be less painful for you to close your Alpha account and start living from scratch. In short, in each case, you need to consider what you are losing and whether it is worth it.
As one of the options, I see that Alpha will still come to his senses and eventually make a possible transfer of the entire IIS completely, without closing it. Since rewriting the conditions retroactively (namely, this is what they did) is not entirely legal (although this stops anyone in our time).
What is the result?
I liked the idea of ​​transferring assets to another broker on my own. No matter what anyone says, Alpha will do it for free (I didn't find the conditions, they told me in the chat). It is not at all difficult for me to press a couple of buttons in my personal account and choose where to withdraw assets. I speak as a client whose significant part of the assets from the Otkritie broker moved to some kind of Investment Chamber, where the possibility of buying or withdrawing funds from a brokerage account has not yet been fully implemented. In the case of Alpha I choose who to give preference to.
A little unpleasant aftertaste was left due to the timing (literally a day is given to make a decision), although I also observed something similar in the Opening, it was necessary to announce the decision within 1-2 days.
And the worst thing is, of course, the forced closure of the IIS. In fact, this is a spit on all investors and a reason to quickly dump from a broker who does not appreciate you as a client.